Friday, June 03, 2011
North Central Cascades Traverse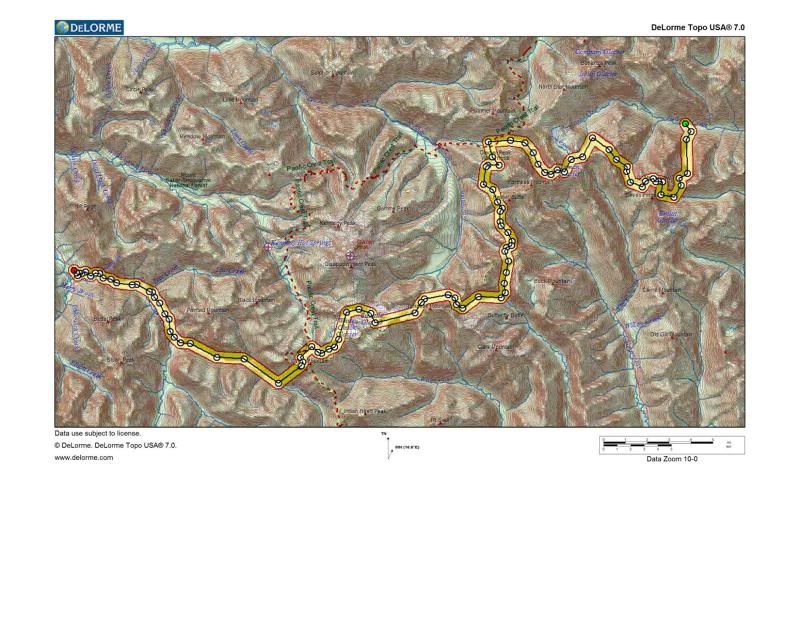 It's interesting how routes are created.
The pre-conception for this traverse began on Glacier Peak in 2003 as Peter and I looked south at an obvious high route connecting The Enchantments to Snoqualmie Pass.
At that time, we had no idea that we were standing amidst a future Cascadian crossing.
It wasn't until we were in the middle of the Central Cascades Traverse in 2008 when our eyes kept being drawn to the snow filled massif east of Glacier Peak that the inspiration for this route was born.
The plan for the North Central Cascades Traverse (NCCT) matured quickly the fall of 2009 when I entered the zone around Trinity for my first time. I remember looking at a map while on the south side of Clark Mt and double checking that I was standing amongst a continuous 6000' descent of skiable terrain. I thought such vertical was only offered up on our bigger volcanoes and amazed that I had not heard more about the ski potential in this part of the Cascades. From then on, the map studying intensified as I tried to piece together an east to west high route.
Fall of 2010, I got commitment from my main touring partners. Finally on May 20, 2011, Adam Vognild, Peter Avolio, Rob Bolton, and myself boarded the Lady of the Lake headed for Lucerne and then on to Holden where our man-powered adventure began.
The folks of Holden Village were as friendly as fellow ski tourers had reported and I look forward to longer visits in the future (both amongst the community of the village and amongst countless ski explorations in every direction). Thanks to a long winter, we only hiked ten minutes and fifty vertical feet before we started skinning up the Copper Creek basin.
Traveling in the afternoon hours of a warm day, we swiftly followed the path of least objective hazard. This basin is a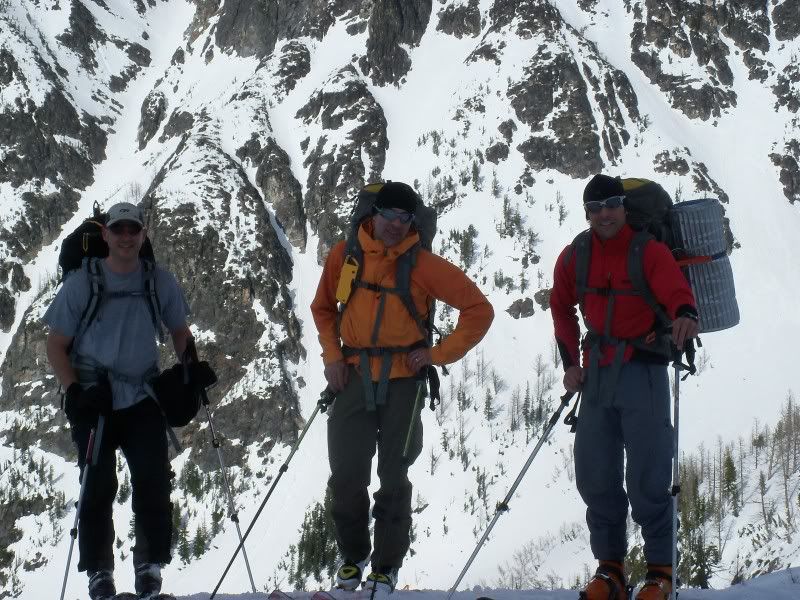 steep skier's delight and we were impressed by the large wet slides that trenched out football field arenas in the low angle valley floor. While the forecast indicated this would be the last sunny day for who knew how long, I was relieved that conditions would become less "mushy" with colder temps. While this stability relief was long endured throughout the tour, the continuous poor visibility eventually triggered some navigational concerns.
Feeling strong and knowing we had a large climb up to Fernow's south shoulder the next morning, we continued over into the head of the Entiat where we set our first camp. This location proved true to what we expected with most camps: a place we would want to base out of in the future for days of great ski lines.
The next morning we left early without any overnight freeze. We made good time up the southeast side of Fernow with a couple short boot sections to get over it's south shoulder around 8900'.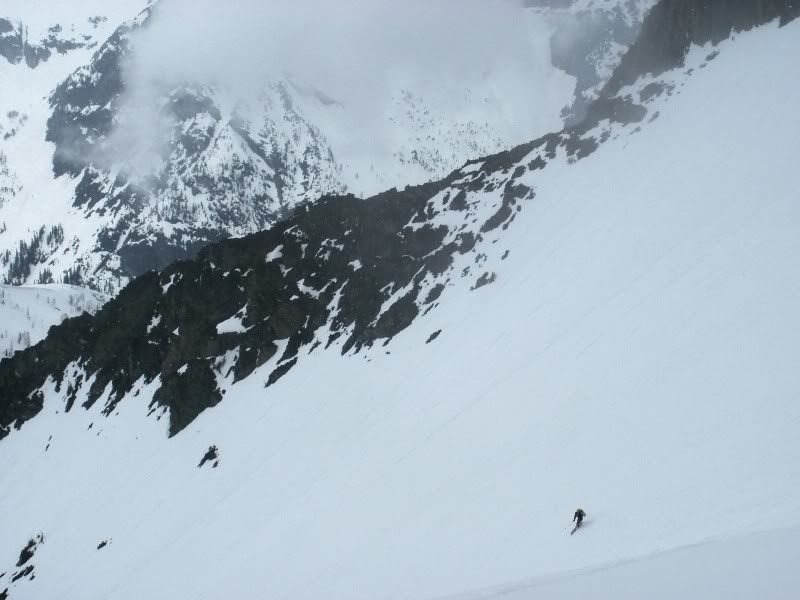 We downclimbed a couple hundred feet of rocky section and then patiently waited out a whiteout before enjoying a fun 3000+' ski into the head of Big Creek.
We set camp just before enduring an eight hour stint of rain. This was the first of many tests for Bolton's new Beta Light shelter. It proved successful through all the tests and instills a great argument against my Megamid for two people.
The next morning Peter sniffed out a smooth route up to the Dumbell/Greenwood saddle. Clouds stayed at least a peak away this day and we enjoyed visibility throughout a fun ski to the northwest. While the map indicated we should trend skier's right for less aggressive terrain, this route had slid to rock and we were forced to finish the descent fall line through cliffed terrain.

Peter and Adam descended left around a rocky ridge on belay where they found a ledge of 3rd class scrambling down to snow.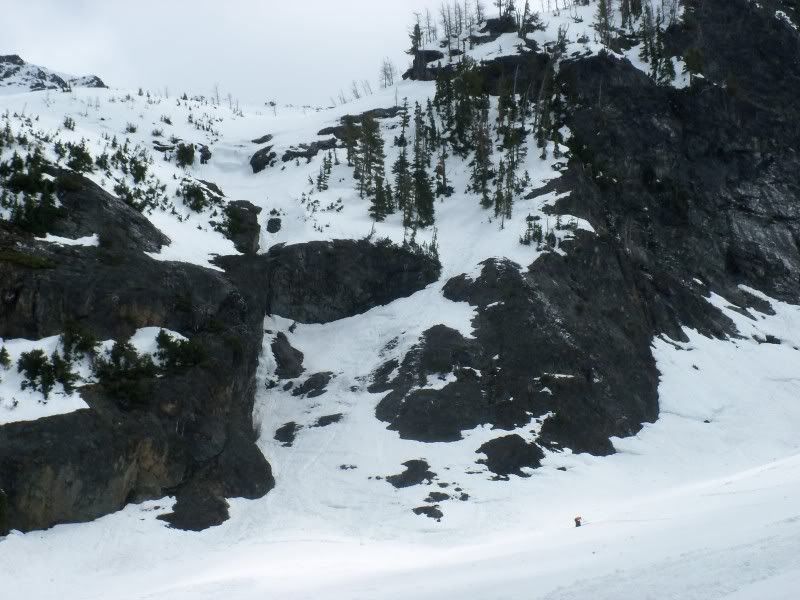 Bolton had been eyeing a snowy line with uncertainty directly below us. Peter skied down to scope it out and gave us the OK. Rather than battle a pendulum repel with uncertainty of pulling ropes, I preferred Bolton's ski line.
More than 2500' below the saddle, we transitioned to skinning and climbed south/southwest to 7200' on the ridge looking west onto Lyman Glacier. Adam encouraged a long "drying" break as the sun was shining. We hung shelters and sleeping bags, air dried happy feet, and enjoyed a most comforting hour and a half lounge session.


While the sun shone bright through most of this relaxation period, clouds continued to cascade down Chiwawa's northeast side prohibiting any views of the next day's summit ascent. Chiwawa convincingly became known to us as "The Cloudy One." The final 1000' ski to the bottom of the Lyman Glacier instilled smiles on our faces as our legs quickly trusted consistent mush turns.
Before the trip started, the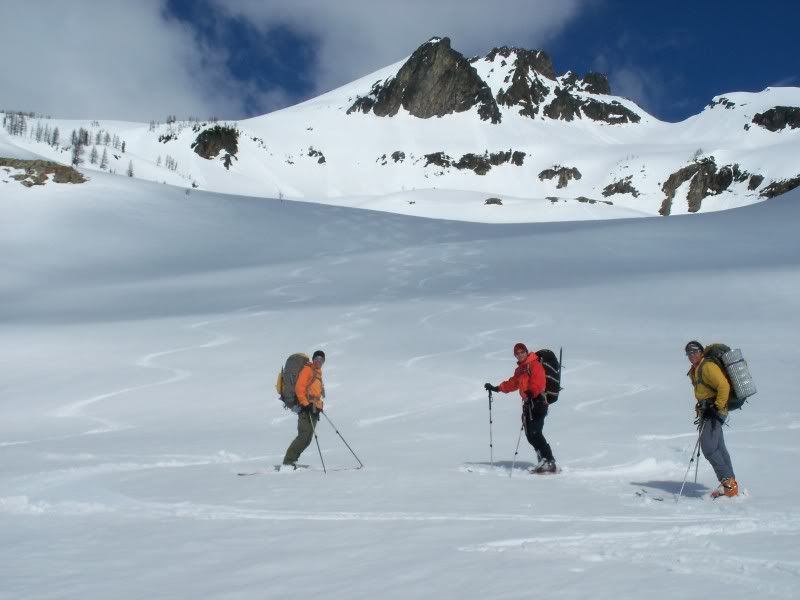 re were two crux points in my mind. The first was getting over Fernow which we had accomplished. The second was getting over Fortress and descending its huge southwest face. This second obstacle required we first travel over the summit of Chiwawa and then look for the weakness in the south ridge of Fortress. We left camp on Day four with this Fortress test and the challenge of getting to our food cache at Buck Creek Pass. Light snow showers fell from the sky and clouds stayed low preventing any looks of "The Cloudy One's" summit. The glacier climb went smooth with the couple inches of new snow benefiting our skinning efficiency. In decreasing visibility, all of a sudden we topped out a few hundred feet lower than the map told us we should. We saw a peak a bit higher to our climber's right and realized we missed the summit. It appeared best to descend down the other side of our high point and then hope visibility increased to shows us a good route up the peak on our right. If a weather window didn't prevail, we could descend to the head of the Chiwawa River and work a route west over the ridge to Buck Creek. We downclimbed on belay and then ski cut belay a steep chute before committing to skiing the steep terrain below us.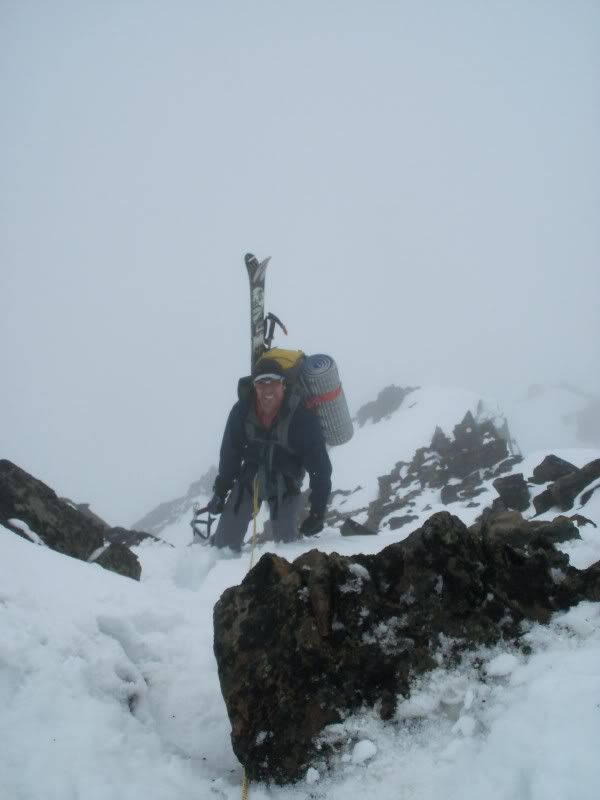 The weather was not improving and due to The Cloudy One's short observed history, we weren't going to hang out and hope. We followed the skiable terrain first to the right and then left through firm runnels. When visibility would increase to a few hundred feet, we glimpsed dark walls to both sides of us. We finally arrived on a bench after 2000' of steep skiing and took a well deserved break. I pulled out the map to see our options. While I expected steep terrain off Chiwawa's south side, something didn't feel exactly right about our descent of least resistance and especially this flatter area we were resting on. It was at this point (2000' too late) that I pulled out the compass to confirm our direction.
I held the compass level…waited a bit, shook it a bit, and momentarily wondered why the arrow was not moving to where it should. We were headed northwest…almost 180 degrees from where I thought we were going. Lovely. We had climbed the upper Lyman Glacier too far right to a sub peak north of Chiwawa's summit and descended into Miner's Creek. Rather than travel back south up to the col between Chiwawa and Fortress into worse visibility and still have the Fortress crux awaiting us, we agreed to ski down Miner's Creek and then travel south over Middle Ridge, across Small Creek, and finally to Buck Creek Pass. After beating myself up a bit for the major navigational blunder, I enjoyed the final turns of a sporty 3500' descent!
We knew we had a lot of mileage between us and our food cache at Buck Creek Pass so got into a slow and steady pace. With pea soup visibility and the recent navigation error still fresh in my mind, the compass stayed out getting the attention it deserved. After trying to force a route in bad visibility through steepening terrain, we resorted down to safer slopes to set up camp and hoped for clearer visibility and thought process the next morning.
It snowed off and on through the night and the morning yielded the same pea soup conditions as the day before. Confirming our camp location with the GPS, we chose a more conservative route over a flatter bench of Middle Ridge at 6240'. We then descended south to Small Creek through trees (most of which were spaced tighter than one would like).
We climbed to a saddle east of Flower Dome and then traversed to Buck Creek Pass, the location of our long desired food cache. The navigation anxiety momentarily subsided while the uncertainty of our food's security built. Will it be there? Will half of it be shredded by long claws or beaks? Will we be forced to exit to Trinity on the small rations we have remaining?
Food cache in tact and it was time for a well deserved refueling session. The cache consisted of five hanging Ursack bags…one had its strings cut and one had been pecked through its Kevlar exterior but nothing inside any of them was altered. We relished in the fact that we had an extra food bag as my brother Rob had to bail from the trip last month. We consumed all four of his dehyrdrated dinners, all his chocolate bars, and some of his trail mix. Hmm hmm good. We figured he deserved a thank you phone call and pulled out the sat phone to send our appreciation and get a weather report. He was amazed we were still socked in as it was bluebird in Seattle and he could see a good portion of the Cascades.
With his optimistic weather observation and our full stomachs, we continued south that afternoon. Bolton led us up Liberty Cap in the same 50-100' of visibility we had grown accustomed to.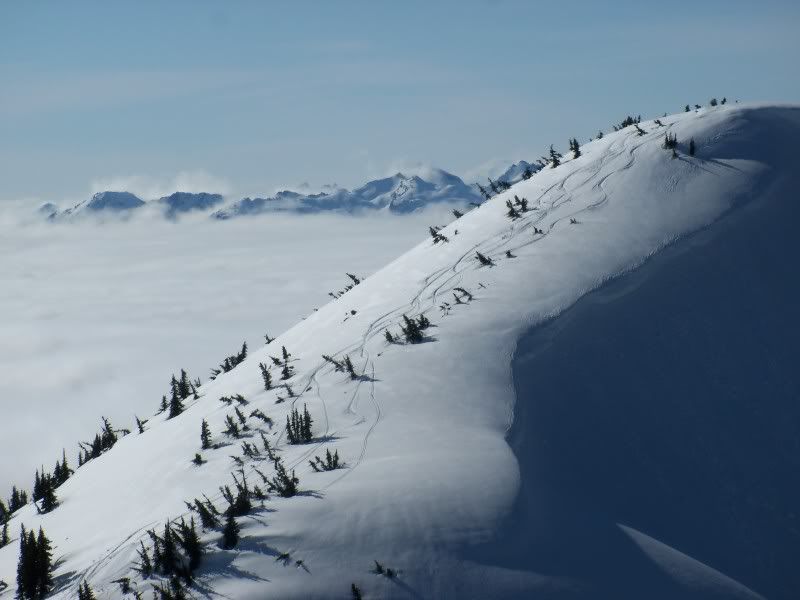 But then the heat on our faces intensified, the light through the fog grew brighter, and soon enough we had risen above the cloud layer! Mountain tops started appearing in all directions and soon the massive volcano to our west started to revere it's bulky mass. All photo capable devices came out and we stood still to admire our surroundings.
Knowing we still had some tricky transitions with limited daylight, we couldn't gawk too long and kept traveling south along the ridge. We skied down along the east side of Pt. 7276 and climbed back over the ridge through a weakness in the cornice. At this transition, the skylines began displaying immense color contrasts. Dark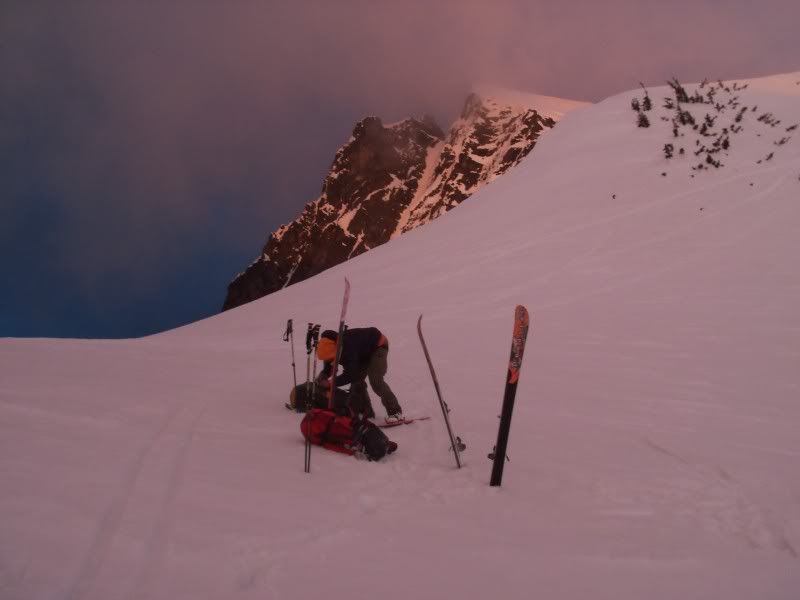 gray clouds were approaching Buck Mt from the southeast while the sun was beginning to set over thin clouds to the northwest. The result was fiery orange to one side of us and gothic purple to the other. We descended southwest and hastily set up camp below Triad Lake as a blustery rain shower moved in.
The next morning we traveled over High Pass and skied south to the Napeequa River. Again, we observed many days of fun ski terrain in our immediate surroundings. With the aid of bear tracks, Peter led us up the Napeequa and over the col to our camp at Moth Lake. The wind was howling down from the glaciers and the forecast called for ugliness so we spent some extra time digging down for added protection in our shelters. That night Adam was pretty excited about our whereabouts and kept brainstorming where else in the Cascades we could get this "deep." I tried to share his enthusiasm for our remoteness but also wished to talk more about it the next night after we had traversed the rugged north side of Tenpeak Mountain.
While the map shows a slight bench at 6000' amidst Tenpeak's rowdy north couloirs, I gained the confidence in this section of the route from Lowell Skoog's previous crossings. Thanks Lowell & Co. for pioneering this section and for the beautiful photos of that zone…it's refreshing to see what we traveled through!
We awoke to colder temperatures, light snow showers, and three inches of new snow. I liked it…good temperature trend for stability, not too much new snow for potential destruction but enough new snow to help travel over otherwise firm icy runnels.
We made a descending traverse from the outlet of the lake and then skinned (ski crampons mandatory) to a wide saddle that allowed an easy entrance onto the Honeycomb Glacier. Visibility held in there f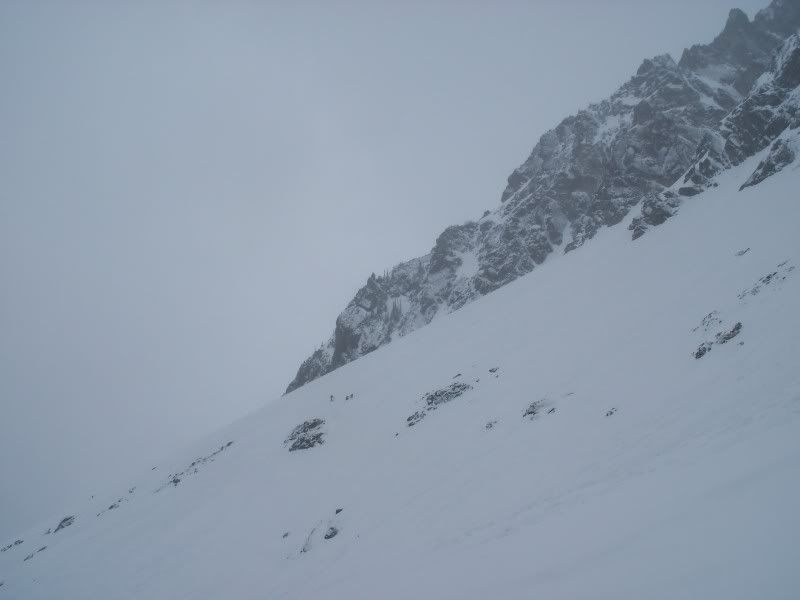 or great travel…never enough to see the top of Tenpeak or much into the valley below but plenty to see at least a couple hundred feet.

While on the Honeycomb Glacier, visibility got worse. Map, compass, and a GPS reassurance for a preset waypoint got us through the Honeycomb, down and across the Suiattle, and down the White Chuck to where we set camp northeast of White Mt at about 6300'.
This traverse was always intended to conclude with a Glacier Peak summit ski. The weather never presented much chance to even discuss such an opportunity. The weather also did not allow other summit alternatives along the route or even the visibility to enjoy some ski descents along the way. None of us ever complained. We were close to completing a long planned ski traverse through new country. We were stoked.
The next morning we awoke to three additional inches of snow. Bolton led us through powder turns from camp and then we began our final ascent to a col west of White Mountain. The top 1500' of our south facing run to the North Fork Sauk River consisted of pleasant powder turns. It then slushed up before finally giving way to more dirt/rock/brush than snow and we downclimbed the last few hundred feet after enjoying another 3000' ski descent.
We hit the valley bottom a little east of the trail and had to earn some Cascadian bushwack credos before finding the trail out. Due to road closures, our car was parked off the Mt Loop Highway at the start of the North Fork Sauk River Road adding seven additional miles of walking fun to the finish.
We got into the car and were amazed at how quickly the miles peel off when rolling at 30 mph. The culture shock continued in Darrington as we couldn't find an appropriate dining establishment. We all stared blindly out the windows as the green pastures turned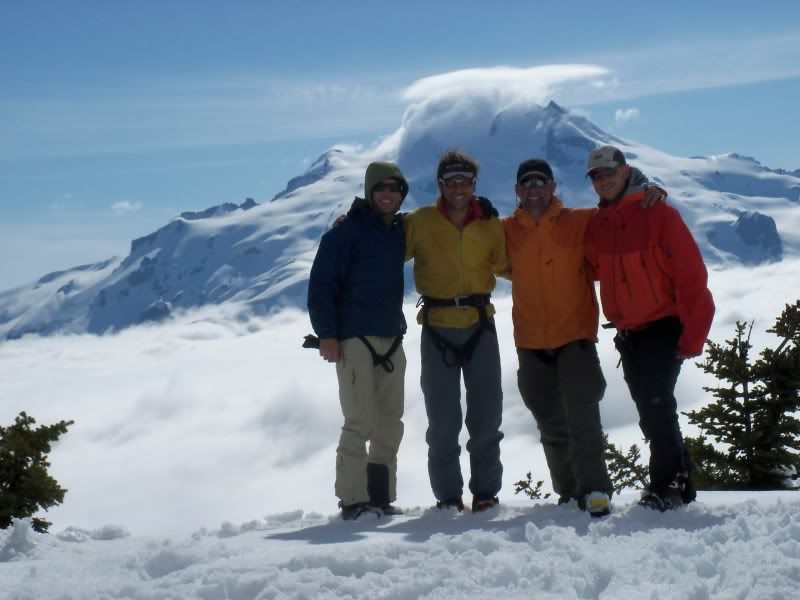 to concrete strip malls and soon founds ourselves in a Red Robin consuming 3 courses of high caloric meals.
The trip was extremely rewarding for me as I got to travel through entirely new terrain with my good friends. Strong work team and thanks for a most memorable traverse!
More NCCT photos here and will add more as get them from Bolton.

Wednesday, May 14, 2008
Central Cascades Traverse
Wednesday, February 13, 2008
Front Page News
Wednesday, October 31, 2007
Home Sweet Home